Climbing and rappelling
In Tafjord you can experience two of Western Norway's most airy experiences in rappelling. At Zakarias Dam, and at Old Power Station 1 we have a 15 meter rappelling on the facade building. See more information below.
Inside the Hydropower and Avalanche Center we have a new and modern 10 meter high climbing wall that is open to visitors. We have both climbing harnesses and equipment for all ages.
Safety Rules
Everyone who is going to rappel must sign the safety rules when attending. Carefully read these rules beforehand.  Download the safety rules for rappelling activities here.
A self-declaration for use of the climbing wall must also be signed in person. Download the self-declaration for use of the climbing wall here.
Welcome to an airy experience in Tafjord!
Rappelling on Zakarias Dam
Join an adrenaline-filled challenge from the famous dam to Zakaria's Lake in Tafjordfjella! Maybe you saw the episode from the show Celebrity Task Force, where Kompani Lauritsen was rappelling on the dam ?
The rappel with us is approximately 60 meters. To get you up, we follow a Via Ferrata route up the gorge. All rappelling is carried out by qualified personnel.
Rappelling on Zakarias Dam must be pre-booked.
Pris 995, kr -per person/ 4500kr for groups outside of center hours. Age limit is 15 years old/ 10th grade. Maximum number of people per day is 30. Under 18? Permission from a parent or guardian is required.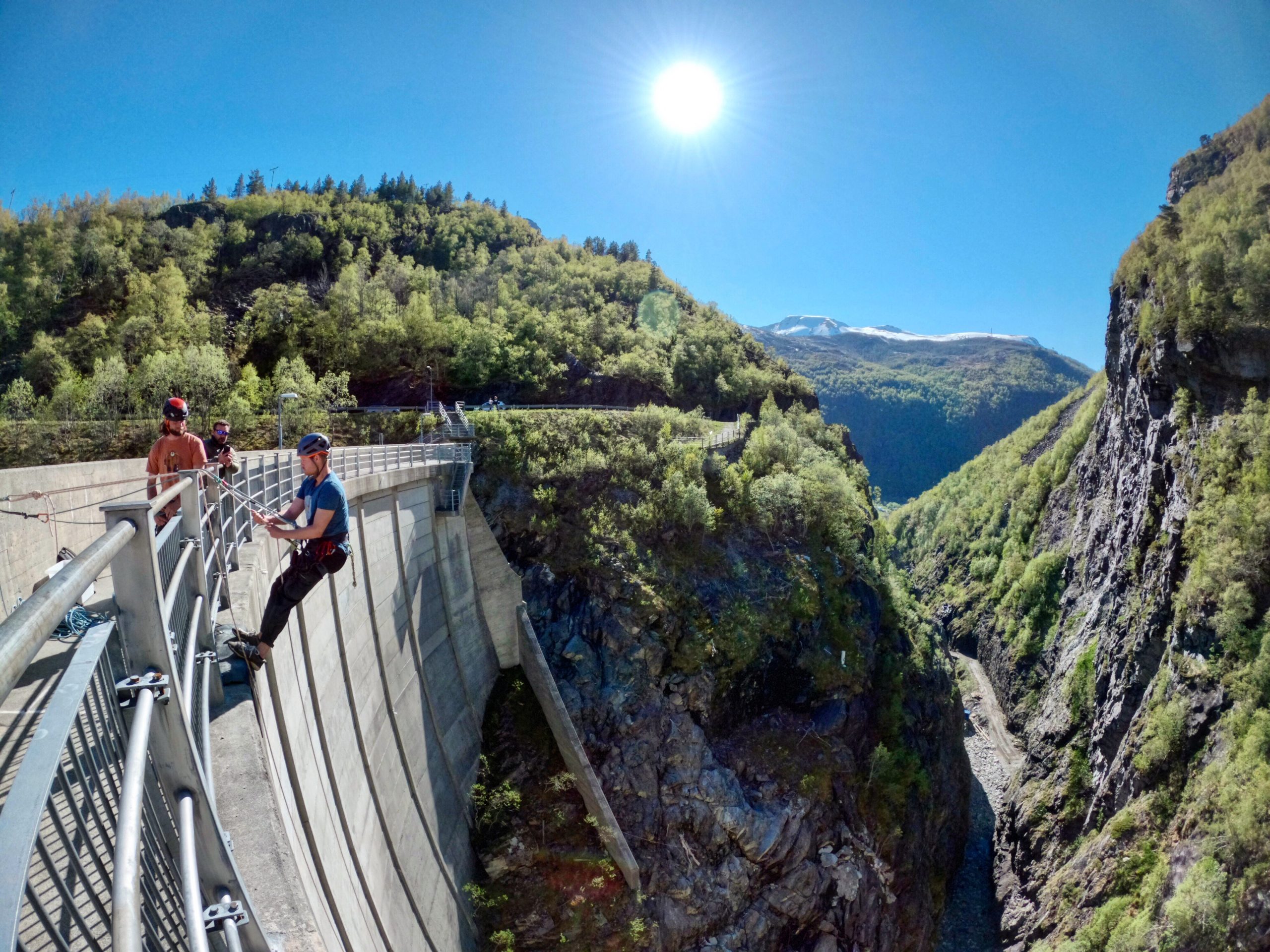 Safety is our biggest focus. Weather, wind, and water level will determine if rappelling is justifiable. Due to this, pre-booked tours can be cancelled. The Via Ferrata route requires that the participant is in generally good physical shape. And for safety reasons, personnel may refuse to rappel individuals who do not fit the weight requirements.
Rappelling will be available for booking every Thursday-Sunday Between the 17th of July and the 14th of August 2022. We meet at Zakarias Dam at the time the guest has booked via our website. If you prefer a rappel time outside the center's opening hours (such as sunset, or midnight), private group rappels can also be booked by sending us an e-mail.
Book rappelling via our online booking!
Rappelling must be booked at least 3 days in advance, but if other groups have made reservations on the desired day, it may be possible to join at the last minute. Call us for a quick clarification. If you would like to cancel, this must be done 7 days before your rappel booking in order to receive a refund. Cancellations made less than 7 days before your booking are not entitled to a refund.  If we cancel due to safety reasons, the entire amount will be refunded. 
Rappelling at the center
An exciting challenge for young people or those without any prior climbing experience!
During the center's opening hours, it is possible to rappel down from the 15 meter high facade on the building. This is an experience for those who have never rappelled before, but who are looking for a challenge! The rappel is performed by qualified personnel.
Rappelling at the center must be pre-ordered.
Price NOK 170, – per rappel including the entrance fee to the center. The age limit is 12 years old, and participants under 18 must have written permission from a parent or legal guardian.